FAST TURNAROUND FOR STOCK FILTERS
We convert Nikon, Canon Panasonic cameras - advice freely given!
Ask About Full Spectrum on Lumix micro 4/3 - gives you a choice of lens mounted filters for different wavelengths - and they convert really well.
Now is the time to get your camera converted - the

SUN

is out!!
Advice freely given.
STOP PRESS!
One of our IR contributors, Colin Say, retouching expert, tutor and all round brilliant chap is exhibiting in Eastbourne with fellow photographer Mark Bray
See http://undergroundtheatre.co.uk/events/art-maritime-exhibition/
for more information. Together they are GCM Photographic those well known Sussex bloggers! Find out more at:
We converted for a Wildlife Filming Company the Canon EOS 7D - converts really well and has Liveview & video! £250 + p&p - choice of filters.
How about the Nikon Coolpix P7700? Converts really well - 665nm filters in stock NOW - Fast Turnaround - £250 + £10 return UK P&P
Comments from a customer who has just received his back:
"Hi. Just received my Nikon P7700 back with the 665nm filter. Wow! is all I can say. I have been messing about with IR for over a year now and nearly gave up but the rest of our group Photographic Club persuaded me to talk to Kelvin. The result of the first photograph I took straight out of the box with no post processing is the first image from my balcony. I then channel swapped 2nd image. Chanel swapping has never really worked for me before so this was a surprise. I have done nothing else with these images, haven't even tried the RAW files yet. Thanks. Chris"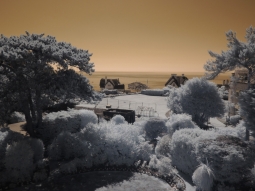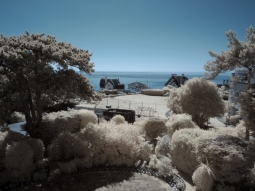 This is the image Chris took straight away after opening his parcel - a Custom White Balance had been set by us - 1st image with no work and 2nd image has been channel swapped - it really is that straightforward!
Canon G Series? Superb Focussing and 720nm filters in stock - £250 + £10 UK P&P
Panasonic Lumix - Excellent to convert - check model availability £250 + £10 uk P&P
Pre-owned cameras available
Pre-owned Nikon D90 coming soon - fitted with a 720nm Filter - this model has Liveview
Other models available to order both NEW or Pre-owned - please ask.
UK P&P £10 EU P&P From £16
Also see Photographic Equipment For Sale Page - Updated pre-owned items for sale.
Magazine articles we have contributed to include:
Cover dated July 2012 Cover dated 12 May 2012


Special Offer from Landscape Photography Magazine!
http://landscapephotographymagazine.com/50000-followers/
September 2013 Edition

For details on how to subscribe see:
www.landscapephotographymagazine.com
Also new magazine now available online:
www.wildplanetphotomagazine.com
Filters stocked - 830nm, 720nm, 665nm 590nm and Clear (for Astro or Supplimentary Filters) for most Nikon & Canon DSLR's. Enquire for other makes/models. We also have some 515nm filters in stock - limited quantity.
GALLERY - Some lovely new images added - thanks to all our contributors.
Feel free to browse through the images supplied by clients using cameras we have converted below. You can click on any image thumbnail to expand it. Please respect the copyright of the owners of the images that appear on this page. Customers images are always welcomed.